Neutralair UV-C Power mini - a new generation
The battery-powered NeutralAir UV-C Power Mini is the ideal device for when you're on the move. Whether at work, in the car, at lunch, in a hotel, at home or during a meeting, the NeutralAir Mini has a very wide range of applications.
Thanks to the 6 different disinfection/cleaning methods, the NeutralAir Mini is a real powerhouse.
Latest cleaning technology on 6 levels
The NeutralAir Mini works with the following disinfection/ and cleaning technologies:
- Coarse dust filter
- Activated charcoal filter
- H13 HEPA-filter
- UV-C LED Illuminant
- over 8 million negatively charged ions
- Aroma oil (lavender)
UV-C Power mini

Our NeutralAir Mini is a compact, approx. 290g light air purifier of the latest generation. Thanks to the integrated rechargeable battery, it is not only mobile and very flexible, but also a power bank for your smartphone. Rechargeable via the USB port in the car, on the computer or on the power outlet.


2 different fan speeds: quiet and efficient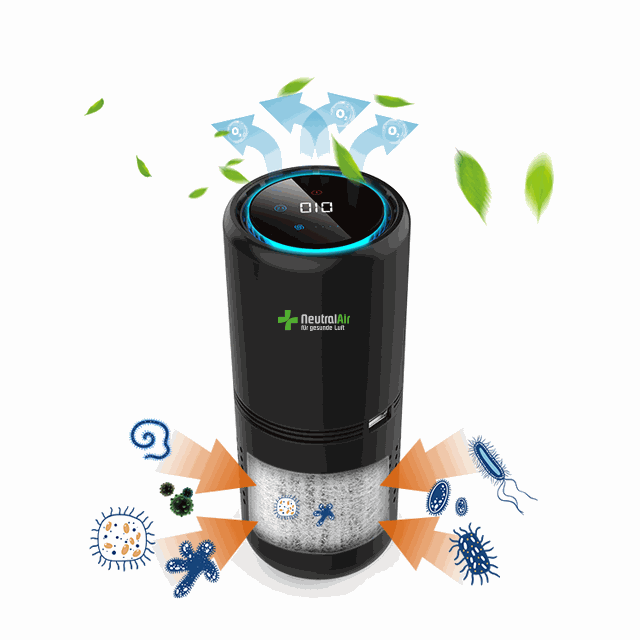 Filtering/disinfection technology:
- Primary filter
- Activated carbon filter
- H13 HEPA filter
- anti-ion generator
- UV-C lamp
- Aroma Oil (Organic Lavender)
Features:
- Filterkartusche
- Kissen für Duftöl
- 1 Flasche Bio Lavendelöl 5ml
- Strom-/Ladeversorgung
- LED (4-Farben Luftqualitätsanzeige)
- Berührungssensor

The unit is delivered ready for operation.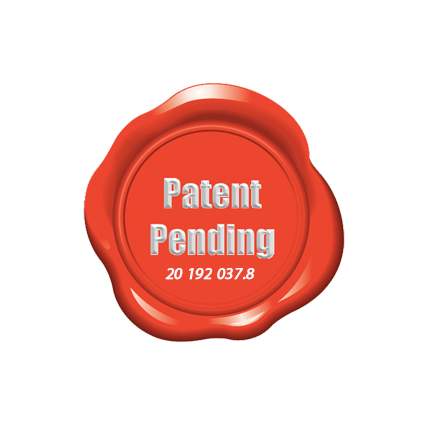 Technische Daten:
Farbe: Schwarz
Abmessungen: ca. 168 x 68 mm
Stromversorgung: USB
Batteriebetrieben (730mAh Akku): 2-3h
Netto-Gewicht: ca. 290g
Empfohlene Raumgrösse: 4-6m2 / <10m3/h Luftreinigung UV-C: 2 x 4mW LED (260-280nm)
Aerosol-Hotspot
As soon as several people sit at one table, an AEROSOL-HOTSPOT is created in the middle. This is created by breathing, speaking, coughing or sneezing.
Aerosols are smallest water particles which are known e.g. as means of transport for viruses (SARS-CoV-2).
The UV-C Power Mini was developed exactly for such meetings. It reduces the aerosol load by means of the three disinfection technologies.
H13 HEPA filter / UV-C LEDs / negative ions / lavender oil (optional)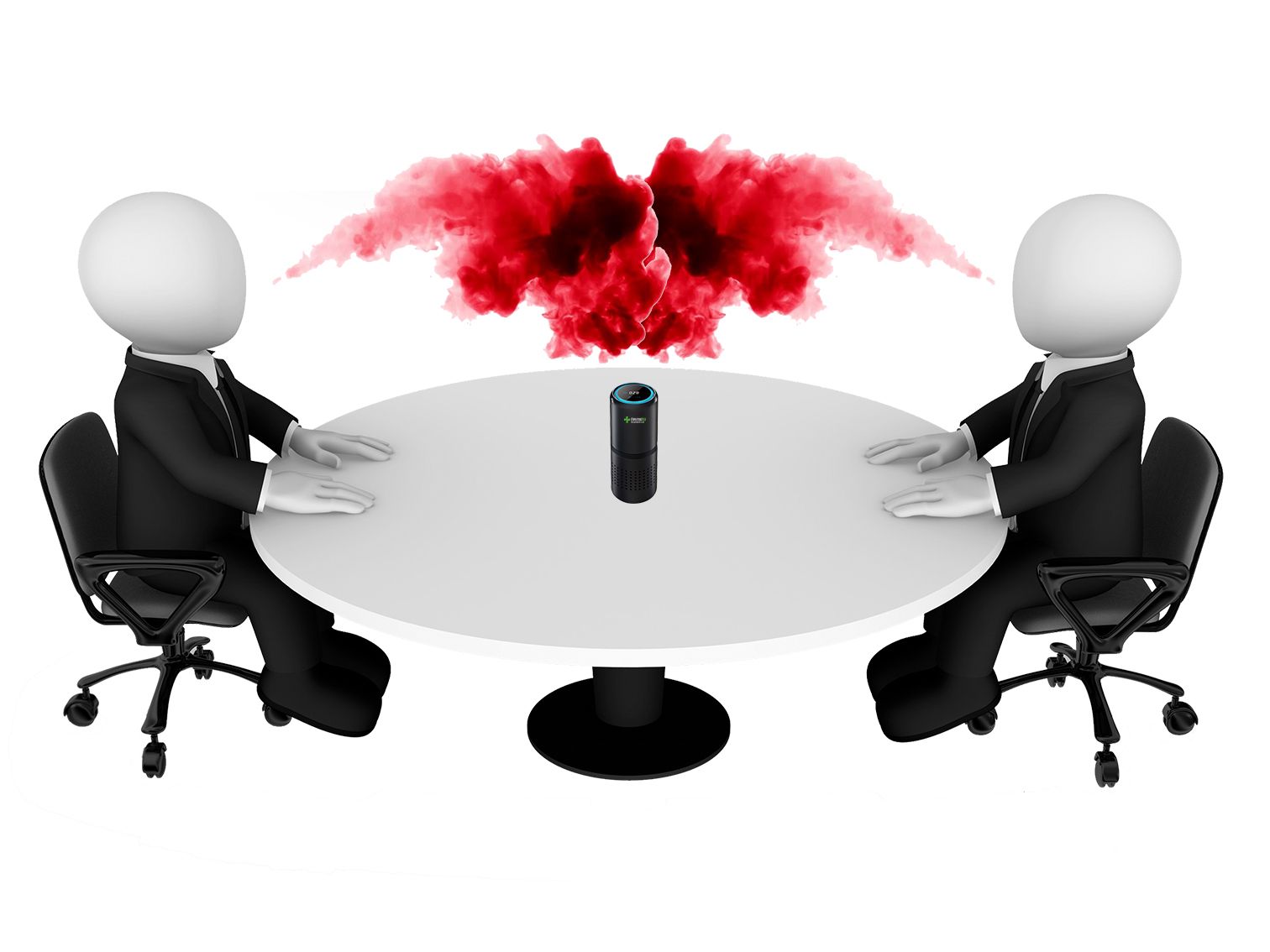 The purification methods: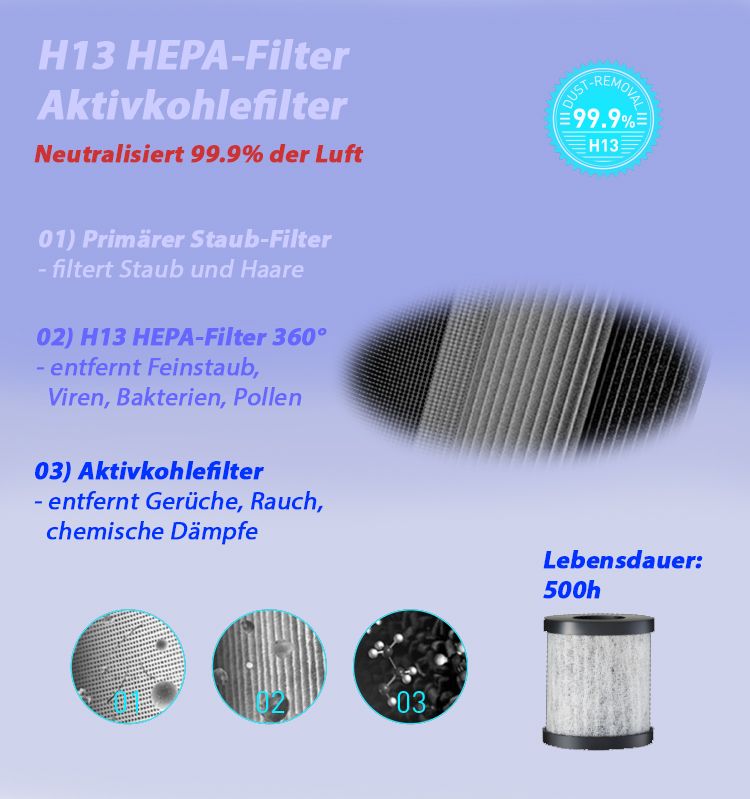 H13 HEPA filter and activated carbon filter
The primary dust filter filters larger dust particles and thus helps to protect the subsequent filters from clogging too quickly.
The activated carbon filter has the task of neutralising odours and gases.

The HEPA filter is a laboratory filter with a mesh size of 0.3um which traps all particles such as fine dust, pollen, smoke, bacteria and a large proportion of viruses. From a laboratory point of view, this is called sterile filtration.
The filter set should be replaced after 500 operating hours.
Anti-ion generator (8 million per cm3)
Anti-ions are negatively charged particles that create a molecular "sticking action" as viruses, bacteria, dust particles are all electrostatically positively charged.

They combine with particles and viruses to form larger molecular chains with a higher molecular weight. This causes these chains to fall to the ground and get caught in the filter again.
With this method, an air sterilisation of up to 99% can be achieved.
You can clean 4-6 m2 with it.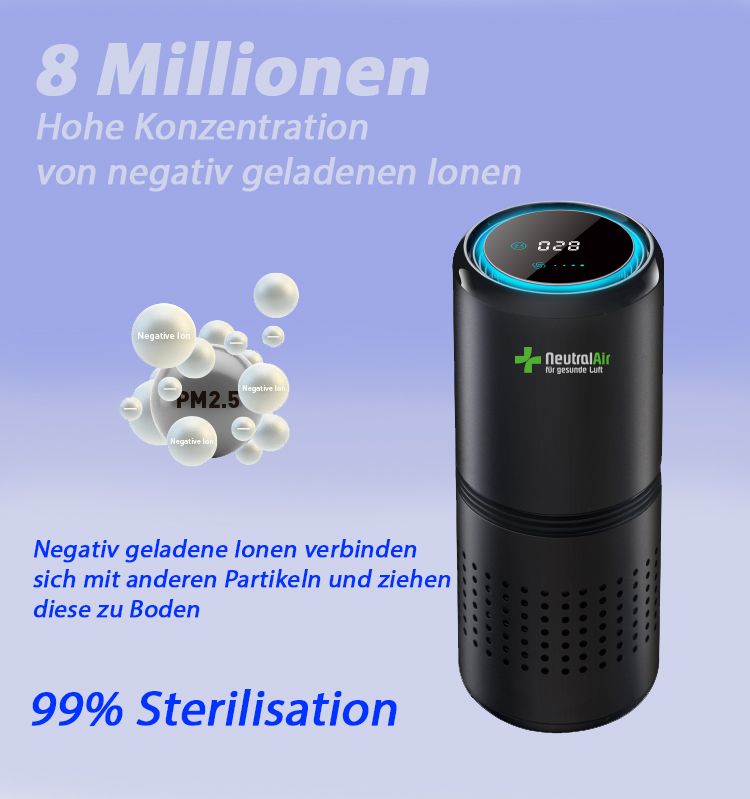 UV-C lamp
The NeutralAir Mini has a built-in LED UV-C lamp. The UV-C light has the property of dividing the RNA of viruses as well as the DNA of other organic material.
Viruses have a very poor resistance to UV-C radiation. This means that viruses such as influenza, SARS, COVID-19 etc. are already inactivated within a fraction of a second.
With this technology, which has been tried and tested since the mid 1950s, 99.97% of the air can be cleaned. It also successfully destroys mould spores, mildew and other pests.
Further information and scientific reports can be found on the website of PMI Labortechnik GmbH
- UV-C disinfection and scientific documentation (UV-C & COVID-19)
(to the website of PMI Labortechnik GmbH, laboratory equipment)
Aroma Oil (Organic Lavender)
The NeutralAir Mini comes with a bottle of lavender oil. Only organic lavender is used to make the oil.
Thanks to the possibility of using an essential oil such as a soothing lavender oil, the Neutral Air Mini is also ideal as an air purifier in the bedroom.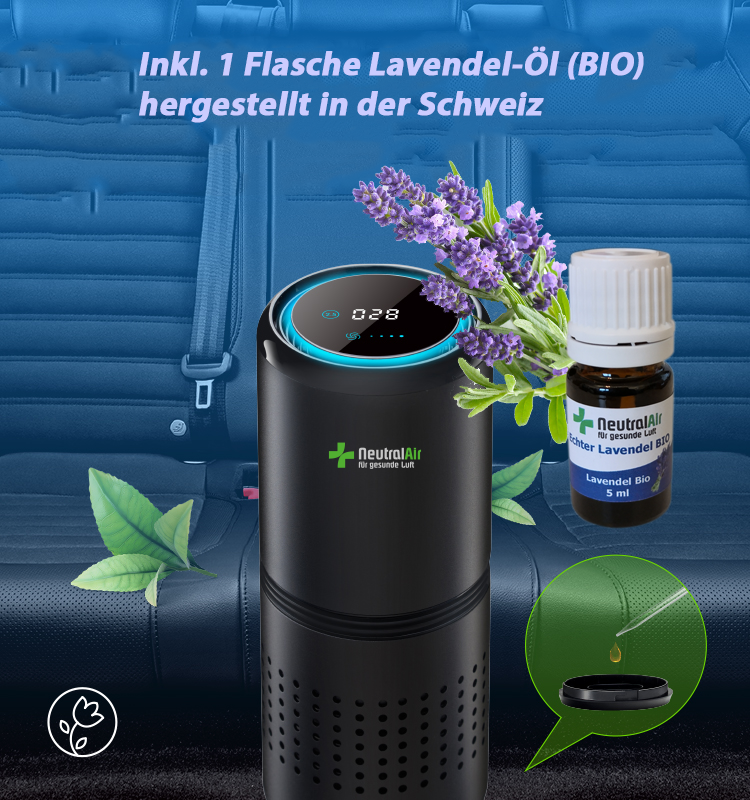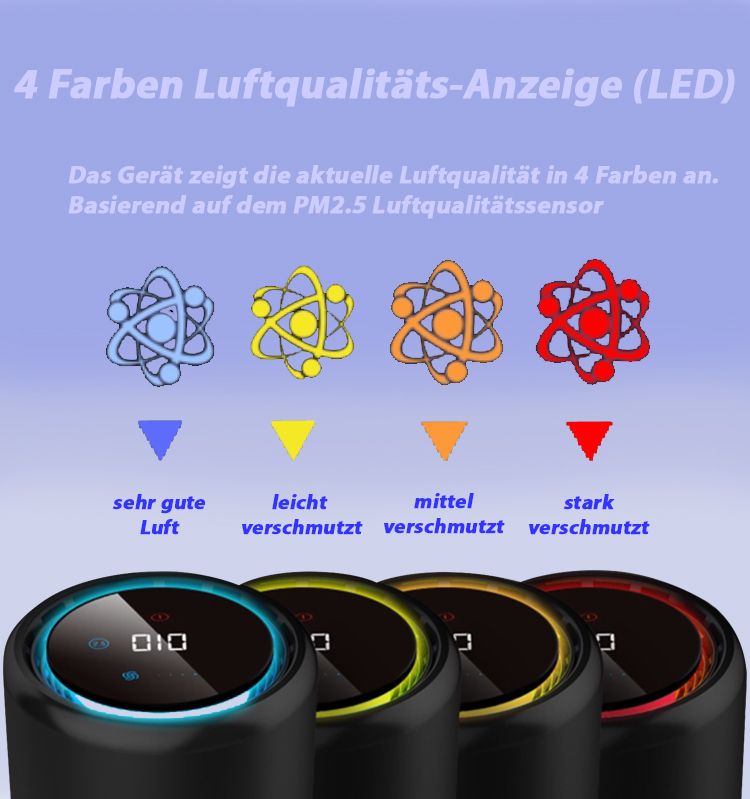 Current air quality display by means of 4 different display modes colours and digital pollution value.

- Blue -> very good air
- Yellow -> light pollution
- Orange -> medium pollution
- Red -> heavy pollution