NeutralAir air purifiers belong to the elite on the market. They have a 5-step cleaning process, which neutralizes not only particles but also gases and, with the UV-C lamp, germs and viruses.

Thus you clean up to 99.9% of the room air.
The air purifiers are particularly suitable for immunocompromised people, allergy sufferers and all those who want clean and germ-free air at home, in the office or in the practice.
Das Gerät ist leider zur Zeit Ausverkauft, hier finden Sie
Alternativen
bei PMI Labortechnik GmbH!


Product advantages:

- 5-stage filtration eliminates from the air: bacteria, viruses, fine dust, pollen, smoke, hair, dandruff, dust mites, mould, yeast, mildew,
chemicals, dust, odours, coarse particles and gases
- Laboratory HEPA filter (99.97% True HEPA Filter) with 0.3µm mesh size, filters all bacteria, pollen and fine dust particles
- UV-C barrier destroys viruses and organisms that pass through the HEPA filter
- Very quiet and energy saving
- Air particle sensor for automatic 4-step speed regulation and air quality display
- Night sensor for night mode (works in the dark only at the lowest level)
- Electronic filter monitoring and information on the cleaning interval (dust filter excluded)
- Prefilter is washable
Technical data:
Air purifier UV-C Power
5-step cleaning system
Step 1: Washable filter net (Dust)
Step 2: Formaldehyde filter
Step 3: Activated carbon filter
Step 4: 99.97% HEPA filter
Step 5: UV-C Illuminant
(log 5 for coronaviruses, 99.999% reduction)
The filter set has a service life of approx. 0.5 to 1 year.

The UV-C lamp should be replaced every 1.5-2 years.

Power consumption (air filter) max. 37 watts
Power consumption (UV-C lamp) max. 14 watts
Air flow max. 290m3/hr
Certified room size 29m2
Recommended room size approx. 85m2
Volume max. 38dB
Voltage / Frequency 220V / 50Hz
Weight 6.0kg
Dimension in mm (WxDxH) 336x200x618
2 years warranty
Disinfection performance with respect to coronavirus:
The NeutralAir UV-C Power 14W achieve a disinfection of
99.999% (log 5) to 99.9% (log 3), depending on the fan speed.

These values are calculated.

CE Declaration of Conformity
The unit complies with the following standards:
EN 55014-1:2006+A1:2009+A2:2011
EN 55014-2:1997+A1:2001+A2:2008
EN6100-3-2:2006+A1:2009+A2:2009
EN 6100-3-3:2013
EN 61199:2011+A1:2013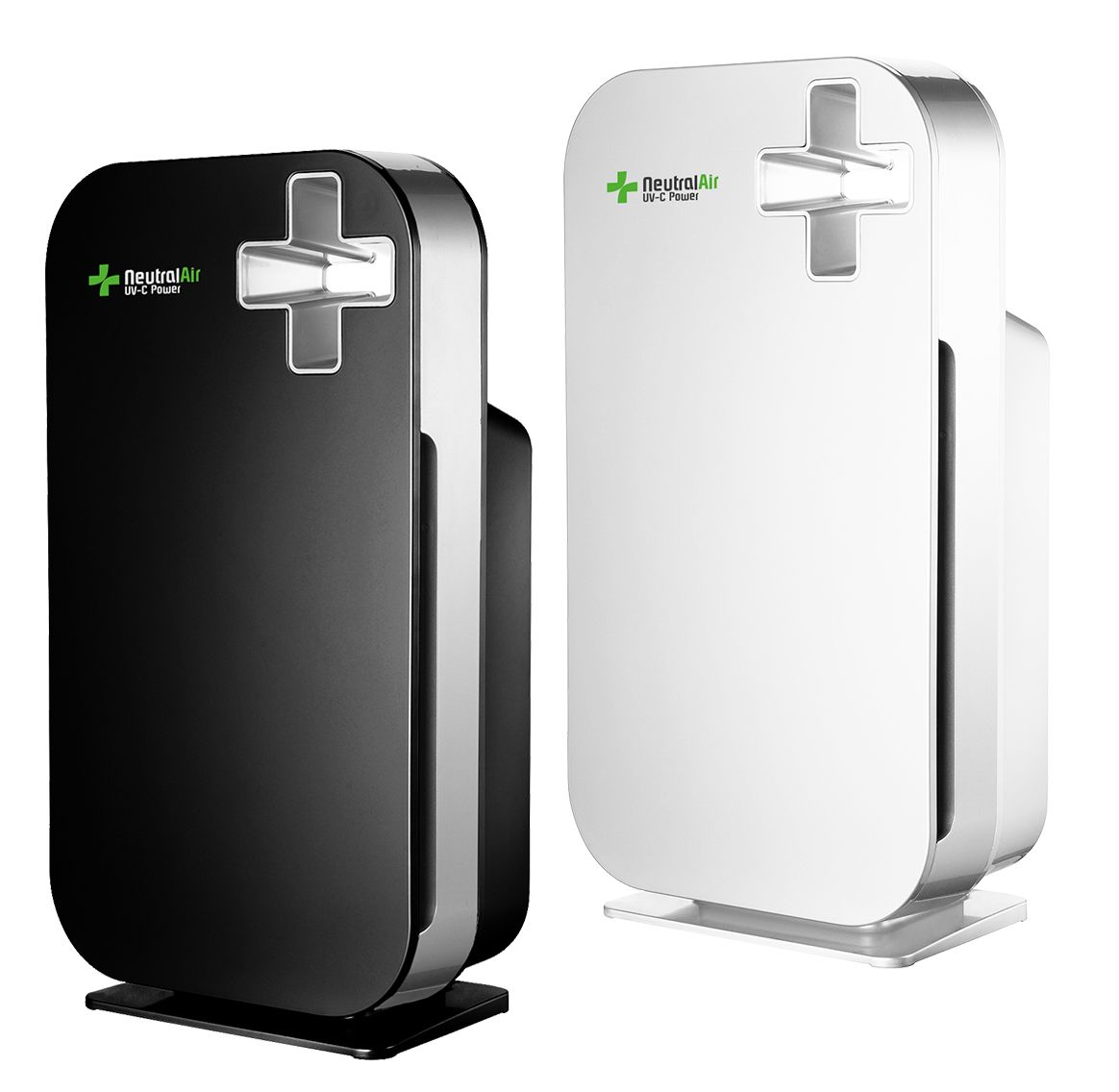 CAS - Clean air services - Certificate
The air purifier has been subjected to various tests. Microbiological tests were also carried out to check the UV-C disinfection.