NeutralAir air purifiers belong to the elite on the market. They have a 5-step cleaning process, which neutralizes not only particles but also gases and, with the UV-C lamp, germs and viruses.

Thus you clean up to 99.9% of the room air.
The air purifiers are particularly suitable for immunocompromised people, allergy sufferers and all those who want clean and germ-free air at home, in the office or in the practice.


Product advantages:

- 5-stage filtration eliminates from the air: bacteria, viruses, fine dust, pollen, smoke, hair, dandruff, dust mites, mould, yeast, mildew,
chemicals, dust, odours, coarse particles and gases
- Laboratory HEPA filter (99.97% True HEPA Filter) with 0.3µm mesh size, filters all bacteria, pollen and fine dust particles
- UV-C barrier destroys viruses and organisms that pass through the HEPA filter
- Very quiet and energy saving
- Air particle sensor for automatic 4-step speed regulation and air quality display
- Night sensor for night mode (works in the dark only at the lowest level)
- Electronic filter monitoring and information on the cleaning interval (dust filter excluded)
- Prefilter is washable
Technische Daten:
Luftreinger
UV-C Power
5-Stufen Reinigungssystem
Stufe 1: Waschbares Filternetz (Staub)
Stufe 2: Formaldehyd-Filter
Stufe 3: Aktivkohlefilter
Stufe 4: 99.97% HEPA-Filter
Stufe 5: UV-C Leuchtmittel
(log 5 bei Coronaviren, 99.999% Reduktion)
Das Filterset hat eine Lebensdauer von ca. 0.5 bis 1 Jahr.
Die UV-C Lampe sollte alle 1.5-2 Jahre ausgewechselt werden.
Stromverbrauch (Luftfilter) max. 37 Watt
Stromverbrauch (UV-C Lampe) max. 14 Watt
Luftdurchlass max. 290m3/hr
Zertifizierte

Raumgrösse 29m2
Empfohlene Raumgrösse ca. 85m2
Lautstärke max. 38dB
Spannung / Frequenz 220V / 50Hz
Gewicht 6.0kg
Dimension in mm (BxTxH) 336x200x618
2 Jahre Garantie
Desinfektionsleistung im Bezug auf das Coronavirus:
Die NeutralAir UV-C Power 14W erreichen eine Desinfektion von
99.999% (log 5) bis 99.9% (log 3) , abhängig von der Gebläsestufe.
Diese Werte sind kalkulatorisch ermittelt.
CE-Konformitätserklärung
Das Gerät entspricht folgenden Standards:
EN 55014-1:2006+A1:2009+A2:2011
EN 55014-2:1997+A1:2001+A2:2008
EN6100-3-2:2006+A1:2009+A2:2009
EN 6100-3-3:2013
EN 61199:2011+A1:2013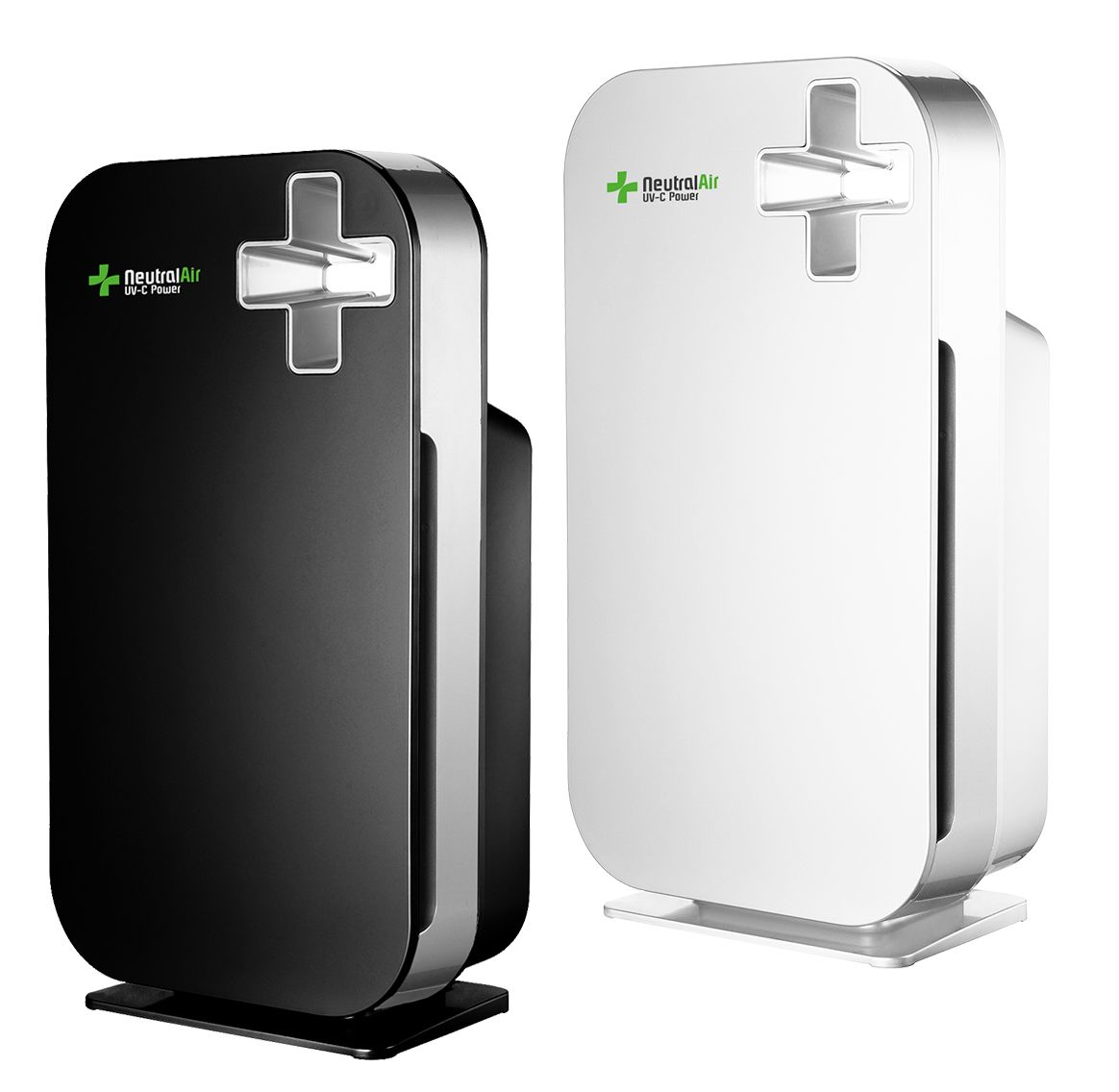 CAS - Clean air services - Certificate
The air purifier has been subjected to various tests. Microbiological tests were also carried out to check the UV-C disinfection.